WICHITA, Kan. – BG Products, Inc. will be exhibiting at the AAPEX 2023 convention from Tuesday, Oct. 31 to Thursday, Nov. 2. See us at booth #A5041 to discover our products and equipment, learn about Tekmetric, the industry-leading auto repair shop management system, and meet Bob Tasca III with his NHRA Funny Car.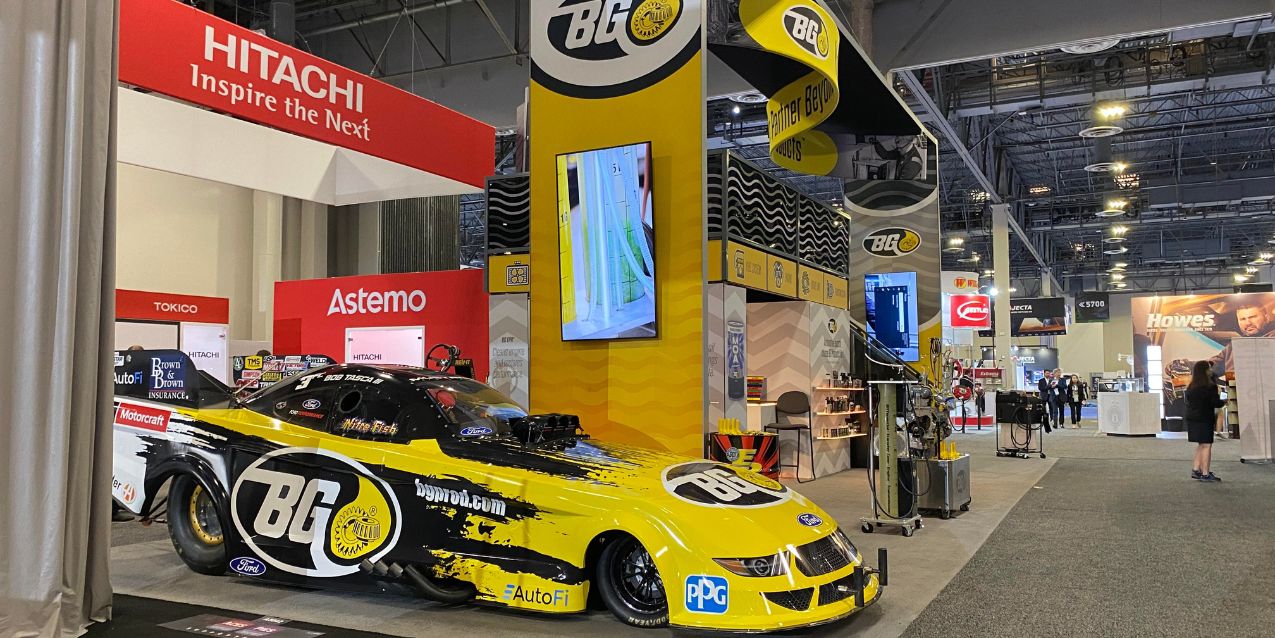 Demo Schedule
Joe's Garage
Tuesday, Oct. 31, 2023
Joe's Garage (Bay 7, Level 1, The Venetian Expo)
Demo Schedule
Joe's Garage
Wednesday, Nov. 1, 2023
Joe's Garage (Bay 7, Level 1, The Venetian Expo)
Demo Schedule
Joe's Garage
Thursday, Nov. 2, 2023
Joe's Garage (Bay 7, Level 1, The Venetian Expo)
BG BFX Brake Fluid Exchanger: The BG BFX Brake Fluid Exchanger makes replacing brake fluid a breeze with a patent-pending, quick, and easy brake system bleeding procedure.
BG Universal Spray Applicator: The BG Universal Spray Applicator is a self-contained, pumpless, one-charge air spraying tool that quickly applies non-aerosol BG Brake & Parts Cleaner.
BG MAX Multi Application Exchanger: The BG MAX Multi Application Exchanger provides a fast and easy way to service all types of automotive differentials, manual transmissions, transfer cases, and change engine oil in light and heavy-duty vehicles.
BG MVP Coolant Exchanger: The BG MVP performs an effective BG Cooling System Service, exchanging worn-out coolant for fresh, new coolant.
With more than 2,500 exhibiting companies, AAPEX is the showcase for the latest products, services, and technologies that keep the world's 1.3 billion vehicles on the road. More than 49,000 targeted buyers are expected to attend, including automotive service professionals, auto parts retailers, warehouse distributors, service chains, automotive dealers, fleet buyers, and engine builders. Approximately 162,000 automotive aftermarket professionals from 110+ countries are projected to be in Las Vegas during AAPEX and the SEMA Show.
Tekmetric is a shop management system designed for auto repair shop owners who want to improve the efficiency and profitability of their business. With Tekmetric, business owners can connect their people, track their work, and scale their business for maximum performance. Tekmetric empowers shops to quickly build accurate repair orders using the built-in labor guide, precisely manage inventory, send status messages to customers' smartphones, perform a digital inspection, and more. Tekmetric provides the fuel to keep shops running smoothly and the engine to grow your business. Learn more at www.Tekmetric.com.
BG products are proven to make vehicles last longer and perform better. In a recent national survey, automotive experts said they use BG Products as their supplier of fluid maintenance service products and equipment by a margin of nearly 5 to 1 over any other supplier. In partnership with an international network of distributors, BG serves the driving public with innovative automotive maintenance products.
Find a local BG Distributor today and become a BG shop!