| | |
| --- | --- |
| By Jeremy Henry, BG Director of Operations | Read time: 3 minutes |
The need for a new facility
In 2007, BG built a 50,000-square-foot distribution center in El Dorado, Kansas. Because we are a strong leader of innovation in automotive aftermarket technology, our product line is always expanding. By 2010, this distribution center was bursting at the seams!
Product storage was expanded into multiple facilities. While this was well managed, it was no longer efficient. It was time to grow!
To keep up with our fast-paced growth, BG commissioned an expansion to our El Dorado facilities. This construction project will add 120,000 square feet of warehouse space to the El Dorado distribution campus. Once construction of the new building is complete, the old distribution center will be reconfigured as a kitting facility.
By the end of the construction process, the facility will be over 170,000 square feet. This project offers plenty of space for continued growth.
At BG, we put customers first. One of the challenges in developing new products is that our old products are still in demand. When you're always adding products, how do you rightsize your storage facility?
This new 120,000-square-foot facility will allow for more storage space for all of our products. We will be able to rack product up to 25 feet off the warehouse floor.
With this extra space comes the need for a detailed organization plan that can incorporate:
The need to rotate stock and move products out in a timely manner.
The ability to route orders and instructions directly to the staff pulling the product.
Professionals with the LeanCor Supply Chain Group helped us create a system of order management that will connect directly to the forklift drivers. The Warehouse Management System (WMS) will serialize all products upon production. Storage requirements will be determined at that point. Thanks to the storage capacity and design of the new facility, all incoming products will have a designated storage location before arriving in El Dorado.
Three different styles of forklifts will be used to keep the new storage facility working efficiently. When an order comes into the new system, it will go to one of three styles of forklifts.
The Tuggers will draw pallets behind them to the shipping area.
The Sit Down forklifts will remove products from trucks and handle stock on lower shelving.
The Reach Trucks will draw product off of the tallest shelves in the new racking system.
All of the new forklifts working in this facility are electric. The tallest pickers come with leveling software for safety and with cameras to help line up the lifting mechanism.
This method of routing orders and pulling stock will make it easier for us to maintain the first in, first out (FIFO) method of product movement. FIFO means that product going to the client is ready to use and within the safe blend date.
At one point, kitting was done at an external facility or by our distributors. We chose to bring this process in-house to guarantee quality control in packaging and presentation. However, with product stored at multiple facilities, kitting became time-consuming and inefficient. And, moving product from one storage facility to another only to be unpacked and combined into a kit, often led to a great deal of wasted packaging.
When the new distribution center is complete in 2020, our team members will be able to create kits quickly and efficiently. All product will be available in the new structure, and the refurbished portion of the distribution center will featuring seven different kitting lines.
Facing the future with confidence
Due to our growing international footprint, once the new El Dorado facility is complete, all international shipments will be processed out of the new distribution center.
The project will take approximately two years from the start date to complete and is expected to be fully up and running by July 2020. As automotive technology continues to expand and grow, so do we. We'll continue to lead innovation both today and tomorrow.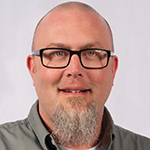 Jeremy Henry, BG Director of Operations
Jeremy started out as a forklift driver over 15 years ago. He's been BG Director of Operations for nearly 4 years.