August 28, 2019
WICHITA, Kan – This year, BG Products, Inc., received four awards as part of the Wichita Business Journal's 2019 Manufacturing, Wholesale and Distribution Awards; including Overall Excellence for the second year running.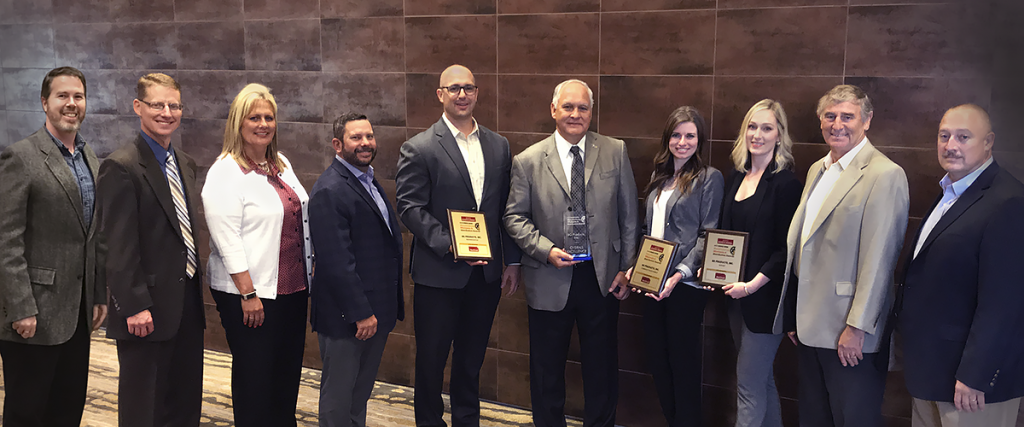 It was a privilege to be considered amongst many distinguished companies. BG accepted awards for the following categories:
Community Involvement
Export
R&D/Innovation
Overall Excellence
Community Involvement
We are honored to receive the Community Involvement award. As part of a continuous strategy dedicated to growth and improvement, BG Products supports not only its own success, but also that of Wichita. We are committed to giving back to the community that once supported a fledgling automotive aftermarket company.
Export
As a large part of our business, Export is extremely important to our company. Roughly 20 percent of sales come from outside the U.S. We continue to grow our global business and expand our international network with additions of new Authorized Distributors across the globe. BG has also formed a new company in China to serve our Asia Pacific region with high-quality automotive maintenance products in this district.
R&D/Innovation
The award received for R&D/Innovation comes just after BG Products, Inc., once again expanded its headquarters in downtown Wichita. With our eye on the future, the new BG Technology and Training Center includes a chemistry lab, an automotive testing facility, and an expanded space for BG University chemistry and sales training.
This state-of-the-art facility will enhance our long-established reputation as a leader within the automotive aftermarket. "We're growing as a company in every way," said Darin Greseth, BG President and CEO. "This is our latest step in providing the highest quality products in the field, the best team in the field, and being the leaders of innovation in the field."
Overall Excellence
The final award in Overall Excellence is a true testament to the BG spirit. Thank you for this wonderful honor. We couldn't do it without our Team1BG™ Family!
a
About BG Products, Inc.
BG Products' mission is to make sure all vehicle owners know the importance of automotive maintenance. The reliability of your vehicle is important. To us, preventive maintenance ensures reliability. That's why we offer the best preventive maintenance services. You can trust that when you ask for BG products at your local repair shop, you're asking for more than routine maintenance. You're asking for peace of mind in long-term performance and reliability.