November 5, 2019
WICHITA, Kan. – The latest news-breaking BG service has taken the world by storm and social media by force. Search #BGDynamic on social media and you will find before and after results of gasoline engines that look night and day.
The BG Dynamic Engine Restoration Service is the best way to take a sludged up engine down to bare-metal clean. And now, this effective cleaning power is available for diesel engines.
"New kits, new process—same great results," says Nathan Ebert, BG Chief Business and Strategy Officer.
How do you know if you need the BG Diesel Dynamic Engine Restoration Service? Let's explore.
Problem
Over time, engines develop oil sludge and varnish if not properly maintained. If you're experiencing the following, it might be time for a ctrl+alt+delete with the BG Diesel Dynamic Engine Restoration Service:
Fluctuations in oil pressure
Poor fuel efficiency
Loss of power
Slow response
Excessive smoke
Solution
The BG Diesel Dynamic Engine Restoration Service will erase miles of damage and buildup that other services and cleaning methods simply cannot reach.
Check out the process! Easy as 1-2-3-4: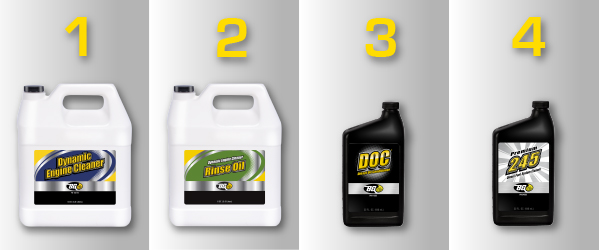 After the service, keep your engine clean with the continued use of BG DOC® Diesel Oil Conditioner and BG 245 Premium Diesel Fuel System Cleaner at every oil change.
So the next time you're experiencing slow response or excessive smoke from your vehicle, it might be time to clean your engine. Removing deposits and eliminating sludge is just another way that BG's revolutionary technology is moving the automotive maintenance industry forward.
BG products are proven to make vehicles last longer and perform better. In a recent national survey, dealerships said they use BG Products as their supplier of fluid maintenance service products and equipment by a margin of nearly 3 to 1 over any other supplier, including OEMs. In partnership with an international network of distributors, BG serves the driving public with innovative automotive maintenance products.