Once again, warmer days in the forecast have shifted our focus toward Climate Control. A year ago, we discovered the real market for unsurpassed performance lies in the newly developed, unmarketed, glycol-derived oil.
Then, we introduced BG Universal Frigi-Quiet®, Part No. 701, the new di-capped Polyalkylene Glycol (PAG) oil due to its technological superiority.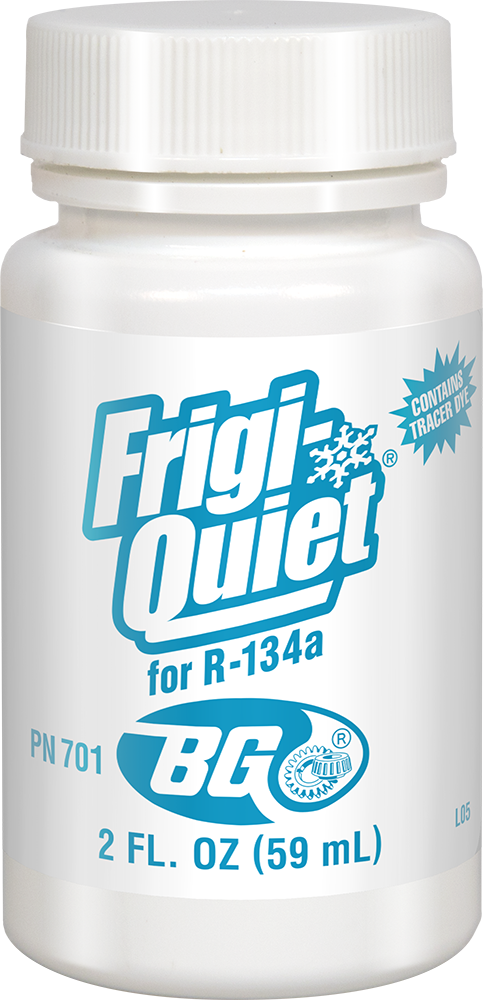 Polyol Ester (POE) oils are no longer the superior performer when it comes to compressor protection. Initial FALEX testing showed di-capped PAG to have a 66% advantage in wear protection over POE and ordinary PAG oils.
Di-capped PAG oils, or as it's known in the biz 'double end capped PAG oils,' are patented and more compatible with future refrigerants like CO2, than conventional PAG oils. Di-capped is a chemical term relating to the process when a PAG molecule is altered by a reaction and the end result is a less hygroscopic (water absorbing) molecule.
BG Universal Frigi-Quiet® bears no resemblance to the PAG oils predominately used in the field. It's a new generation lubricant without the inherent weaknesses of other PAG oils, which are prone to moisture absorption and have poor high temperature miscibility with refrigerant gases.
It's typical for OEMs to void warranties on systems that show the use of POE oils. BG Universal Frigi-Quiet® will meet compressor manufacturer's warranty requirements.
"With a tighter tolerance in compressor design and durability, thinner and stronger oils will be the wave of the future," says Mike Belluomo, BG Technical Services Manager. "Since the refrigerant R-134a is slated to become obsolete, more environmentally friendly refrigerants like CO2 are being developed; especially in international markets."
BG's Universal Frigi-Quiet® empowers A/C systems to provide better cooling, prevent corrosion and wear and extend component life. It was engineered with the future in mind and will keep BG ahead of the pack when it comes to developing a superior lubricant.