May 30, 2017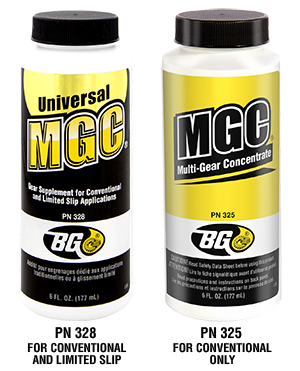 WICHITA, Kan.–May 30, 2017–BG LSII, PN 328, is now called BG Universal MGC® (see the new look below).
BG MGC®, PN 325, will still be available.
However, BG Universal MGC® will allow dealerships to have a product available for conventional differentials, without missing the opportunity to service limited slip differentials.
There is NO FORMULA CHANGE. PN 328 is, and always has been, formulated for BOTH conventional and limited slip applications.
BG Universal MGC® is compatible for use in:
all standard vehicle transmission/differential applications
speed reducers
chain drives
gear sets
Do you want one product for both conventional and limited slip differential applications? Contact your local BG Distributor.
[local_distributor]
About BG Products, Inc.
BG Products are proven to make vehicles last longer and perform better. In a recent national survey, dealerships said they use BG Products as their supplier of fluid maintenance service products and equipment by a margin of nearly 3 to 1 over any other supplier, including OEMs. In partnership with an international network of distributors, BG serves the driving public with innovative automotive maintenance products.