Manufacturers are responding to the call for better fuel efficiency. Nearly 40 percent of new passenger cars in the U.S. require low viscosity automatic transmission fluid. That number will be nearly 75 percent by 2022.
BG Low Viscosity Full Synthetic ATF offers dependable protection for most passenger and commercial automatic transmission applications where low viscosity fluids are recommended. With its unique additive chemistry, BG Low Viscosity Full Synthetic ATF provides outstanding component protection and enhanced service reliability.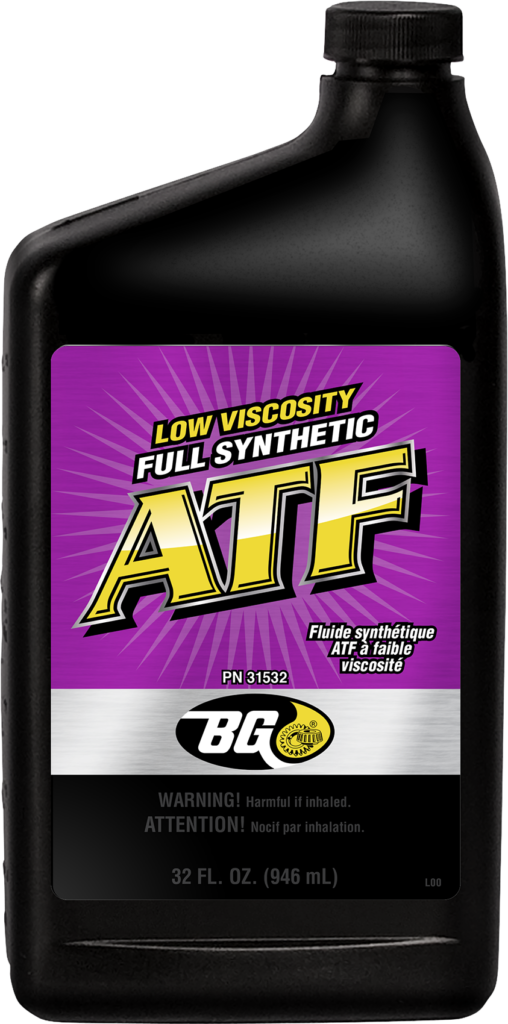 BG Low Viscosity Full Synthetic ATF:
Improves fuel efficiency
Improves transmission performance
Improves shifting
BG Low Viscosity Full Synthetic ATF meets or exceeds the performance criteria of many low viscosity transmission fluids including Toyota WS, Nissan Matic S, Honda DW-1, Hyundai SP-IV, SP-IV RR, ZF LifeGuard Fluid 6 and LifeGuard Fluid 8, Mercedes Benz and JASO 1-A-LV.
Ask your service advisor about the benefits of a BG Transmission Service with BG Low Viscosity Full Synthetic ATF at your next visit.
BG products are proven to make vehicles last longer and perform better. In a recent national survey, dealerships said they use BG Products as their supplier of fluid maintenance service products and equipment by a margin of nearly 3 to 1 over any other supplier, including OEMs.
In partnership with an international network of distributors, BG serves the driving public with innovative automotive maintenance products backed by the Lifetime BG Protection Plan®.