June 24, 2019
WICHITA, Kan. – BG Products, Inc., introduces the new BG Experience™ app. This augmented reality (AR) app, available on Hololens, iOS and Android platforms, lets automotive dealerships and shops show vehicle owners the challenges in downsized, boosted engines. Then, it displays how BG preventive maintenance effectively addresses each of these challenges.
"The AR is spectacular! One of the coolest things I have ever seen," said Matt Caton, Service Manager at Scholfield Honda in Wichita, Kansas.
"The BG Experience™ was designed with three goals: to captivate our audience, to instill a visceral understanding of the need for BG products and services, and to empower and equip our business partners," said Andy Baldassarre, BG Director of Training. "With this app, dealerships and shops can better communicate the value of automotive maintenance to their customers."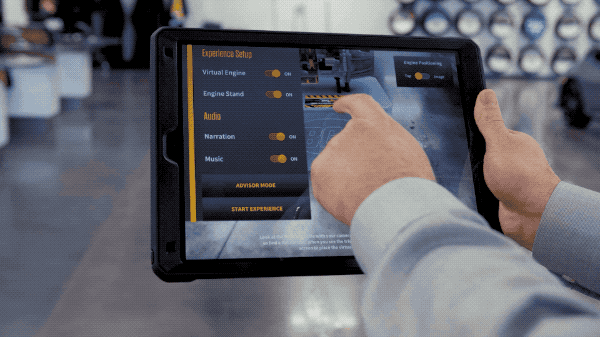 These goals are accomplished through a guided Training Mode that takes you inside a gasoline direct injection (GDI) engine and demonstrates:
How fuel and oil deposits form.
The effects those deposits have on engine performance.
The solutions BG offers to restore performance.
Screenshot from the BGE App

Screenshot from the BGE App
The BG Experience™ also features a self-guided Advisor Mode that allows Service Advisors to walk their customers into the engine and show them the value of the service they are recommending.
"We had a meeting yesterday with a fixed ops director. He absolutely loved the BG Experience™," said Brad Bucks, Distributor principal for BG of Michigan. "He grabbed the iPad and couldn't stop talking about it. Loves the idea of training with it and using it with customers."
Authorized BG Dealerships and Shops can download this app today!
About BG Products, Inc.
BG's purpose is to ensure every vehicle owner is aware of the importance of automotive maintenance. To support our efforts in this cause, we offer the highest quality maintenance products. We study the latest technologies so we can supply the appropriate chemistry using the most effective method of delivery. We provide products, equipment and training to thousands of fixed operations worldwide so they can train vehicle owners on the best ways to care for their vehicles.