April 18, 2017
WICHITA, Kan.–April 18, 2017–BG launches BG Stickers App for Apple iPhone Messages!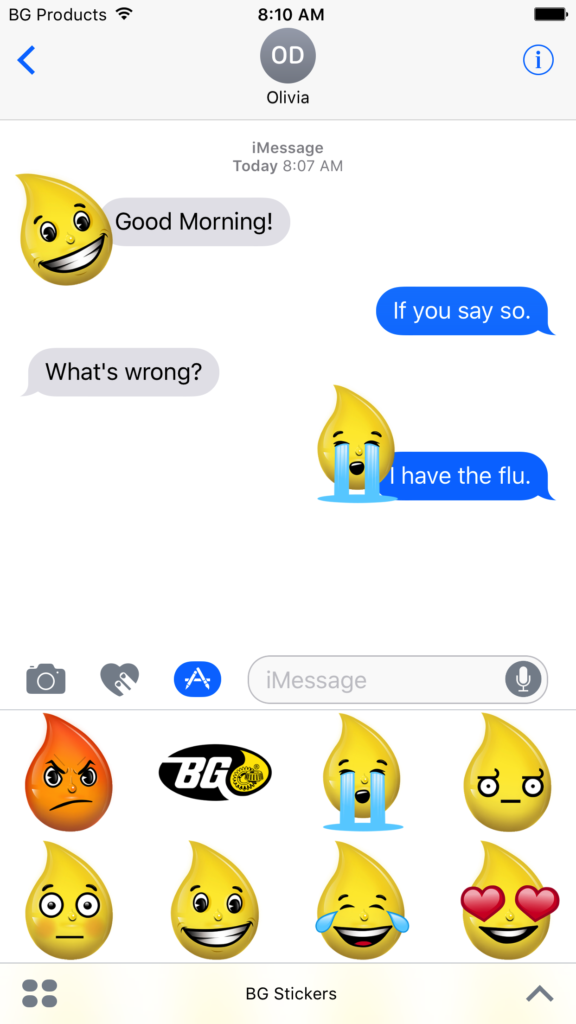 Apple introduced stickers with iOS 10 last September and stickers have made texting a lot more interesting among iPhone users. BG wanted to join the fun so we created our own set of stickers, complete with Odee emojis!
The new stickers are available right from within Messages on your iPhone. Tap the Apple App Store icon while in Messages, search "BG Stickers," download, and add the new stickers. Tap to send a sticker like an emoji or tap and hold to drag and place a sticker directly on top of a message bubble, photo or another sticker.
Let Odee tell your friends that you laughed so hard you cried with the new BG Stickers!
About BG Products, Inc.
BG Products, Inc., is dedicated to making vehicles last longer and perform better. In partnership with an international network of distributors, BG serves the driving public with innovative products and proven programs of automotive maintenance. In a national survey, Service Managers chose BG brand machines to perform their fluid maintenance services 2 to 1 over any other.
[local_distributor]