December 1, 2017
WICHITA, Kan.–December 1, 2017– The new BG Protection Plan for Motorcycles will cover repairs up to $1,000 when you get a BG Performance Oil Service every 3,000 miles (5,000 km).
There are 9,000,000 registered motorcycles in the United States and Canada. And most motorcycle owners are do-it-yourselfers because it's easy to change the oil on a motorcycle. But when you do the oil change yourself, if any components fail… you're the one paying for the repairs.
The BG Performance Oil Service will keep your bike running smoothly and reliably. Plus! If covered engine or fuel system components fail, BG will pay authorized repairs up to $1,000 (Plan 1) or $500 (Plan 2).
The BG Motorcycle Protection Plan covers 4-stroke motorcycles larger than 110 cc until they reach 75,000 miles (120,000 km) or 20 years (whichever comes first).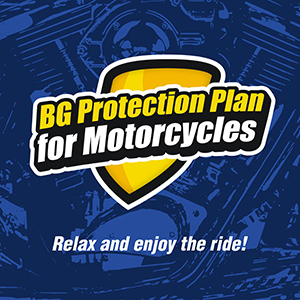 Service Interval: Within 5,000 miles (8,000 km)* or 1 year (whichever comes first)
Reimbursement: Up to $1,000
BG Protection Plan is free to the owner of the motorcycle.
To qualify:
100% coverage: First service before 10,000 miles (16,000 km)
50% coverage: First service between 10,001 miles (16,001 km) and 25,000 miles (40,000 km)
Get a BG Performance Oil Change Service every 5,000 miles* so you can really relax and enjoy the ride!
Ask your motorcycle shop if you qualify for motorcycle protection!
[local_distributor]
About BG Products, Inc.
BG Products are proven to make vehicles last longer and perform better. In a recent national survey, dealerships said they use BG Products as their supplier of fluid maintenance service products and equipment by a margin of nearly 3 to 1 over any other supplier, including OEMs. In partnership with an international network of distributors, BG serves the driving public with innovative automotive maintenance products.
*Revised June 1, 2018