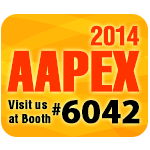 WICHITA, Kan. – October 30, 2014 – Next week, BG Products, Inc., will have a booth on the expo floor of the biggest show of the year – the Automotive Aftermarket Product Expo (AAPEX) at the Sands Expo in Las Vegas.
AAPEX helps shape the future of the automotive aftermarket industry. On November 4-6, AAPEX will host more than 130,000 aftermarket professionals. BG will have an excellent opportunity to reach potential customers who know the value of aftermarket services.
On the second floor of the Sands Expo at booth #6042, BG experts will be educating aftermarket professionals on the value of BG services using full-sized cutaways of six vehicle components. At the booth, attendees will also learn about BG's latest product developments, service solutions and innovative marketing programs.
BG Products, Inc., is dedicated to making vehicles last longer and perform better. In partnership with an international network of distributors, BG serves the driving public with innovative products and proven programs of automotive maintenance.
Click here to see our complete line of BG products.