Service training… knowledge equals profits
BG University trains your staff in the classroom and on the drive for sustained performance. BG trained technicians learn how to do more services, more efficiently. BG's Service Advisor training turns order takers into sales makers by selling needed services.
BG University
Through a formalized program of instruction and training that we call BG University, we educate our sales people who in turn help your service writers educate customers about the importance, methods, and rewards of sensible automotive maintenance. At BGU, your BG consultant learns about the technology and thinking that goes into our products, and observes first-hand their proven superiority over competitors. At the same time, he learns about your business and the challenges your people face each day. Armed with these insights, technical knowledge and hands-on experience, your BG consultant arrives at your dealership each week ready and able to help your staff respond more effectively to today's most frequent and troubling automotive maintenance problems.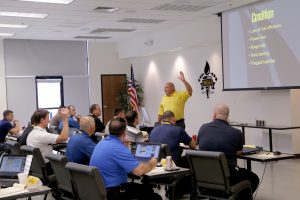 BG Certified
BG Certified uses videos, demonstrations and interactive diagrams to teach automotive professionals a consistent, credible message about the importance, the methods and the rewards of effective automotive maintenance with BG products.
The main features of BG Certified are:
• Training modules for BG Automotive Maintenance Services, products, equipment and programs
• Logins for all registered BG Dashboard users
• Completion certificates for each module
If you work at a BG shop and would like to get Certified, contact your local BG Distributor!